A round table on ensuring environmental safety during mining was held in Chatkal district.
On October 8, 2021, a round table was held in the Chatkal District State Administration of Jalal-Abad region. This event was organized by the Aarhus Center within the framework of the project "Promotion of Green Economy and Environmental Management" with the participation of the Jalal-Abad Territorial Administration of the State Committee for Ecology and Climate of the Kyrgyz Republic (SCEC KR).
The event was attended by specialists of the Chatkal district State Administration, heads of the Kanyshki and Chatkal aiyl okmotu, representatives of mining companies and activists. A total of 23 people participated.
The opening of the round table was addressed by the Director of the Aarhus Center K. Isabaev who also spoke about the activities of the Aarhus Center.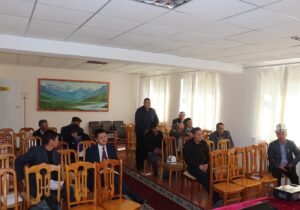 The head of the Jalal-Abad Territorial Administration of the SCEC KR S. Tomoyev and the head of the department M. Duvanakulov informed about the activities of the SCEC and familiarized with the decrees of the President of the Kyrgyz Republic and the resolutions of the Government of the Kyrgyz Republic on the establishment of the State Committee on Ecology and Climate of the Kyrgyz Republic. They gave information about the fines imposed, their types and methods of calculation for mining companies that violate environmental legislation. They noted the importance of obtaining permits for waste disposal and wastewater discharge into the environment, for the release of pollutants into the atmospheric air.
The participants discussed the issues of rational use of natural resources, ensuring environmental safety and received answers from experts.
The head of Kanysh-Kiya aiyl okmotu noted the fact of pollution of the river water by the effluents of the mining company.
The specialist of the Aarhus Center A. Matisaev spoke in detail about the laws of the Kyrgyz Republic "On Subsoil", "Land Code", "Water Code" and "Protection of atmospheric air".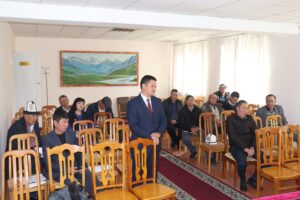 At the end of the event, the participants made the following suggestions:
Conducting inventory and monitoring of mining companies in the near future;
Organize quarterly meetings with local residents and representatives of mining companies to exchange environmental information;
Conducting trainings to increase the potential of residents and specialists of local governments on environmental issues and ensuring environmental safety.
Improving interaction and cooperation to ensure environmental safety and environmental protection.
Specialist of the Aarhus Center in Osh A. Matisaev.