An eco-action was held in the ecological park named after Zh. Bakiyev
On June 3, 2022, an action dedicated to World Environment Day was held in the J. Bakiyev Ecological Park in the city of Jalal-Abad. This event was organized by the Aarhus Center in the city of Osh within the framework of the project of the OSCE Program Office in Bishkek "Promotion of the Green Economy and Environmental Management".
The action was attended by specialists from the Jalal-Abad Regional Department of the Ministry of Natural Resources, Ecology and Technical Supervision of the Kyrgyz Republic (JRD MNRETS KR), media journalists, members of the Ecotartip Public Fund, park specialists, teachers, students of Jalal-Abad State University and eco-activists of the city . A total of 36 participants participated.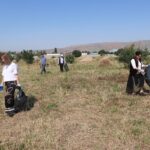 At the opening of the action, the director of the Aarhus Center K. Isabaev spoke and gave the floor to the following participants:
The head of the Jalal-Abad Regional Department MNRETS KR S. Tomaev congratulated the participants on the World Environment Day and the professional holiday of environmentalists. One of the main activities of the regional administration is to increase green areas and parks.
Director of the Ecological Park named after Zh. Bakiyev S. Mamataliyev noted that 150 Paulownia trees have been planted this year, and every year the park becomes greener and better. He also thanked the Aarhus Center for holding the annual action.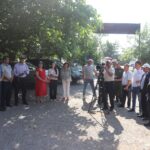 Aarhus Center specialist A. Matisaev informed the participants about the decision of the UN General Assembly in 1972 to proclaim June 5 as World Environment Day, which has become the main one in the international environmental calendar. On the same day, the United Nations Environment Program (UNEP) was established at the Stockholm World Conference of Heads of State.
Director of the Aarhus Centre K. Isabaev awarded diplomas and valuable gifts to the winners of the competition "Environmental Journalist 2022" A. Dzhanybaeva, N. Abdyldaeva, B. Azhymamatova and a student of Jalal-Abad State University A. Abdykalykova, who prepared the best report at a scientific and practical conference among university students of the South.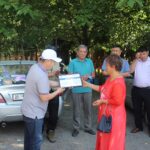 Journalists of the Jalal-Abad regional media center have prepared a special TV show. The information is posted on the website of the Aarhus Centers of Kyrgyzstan and in social networks.
At the end of the action, members of the NGO "Ecotartip" were given three types of posters about animals, birds and plants listed in the Red Book of the Kyrgyz Republic and a collection of legal acts in the field of environmental protection, published by the OSCE Program Office in Bishkek.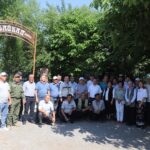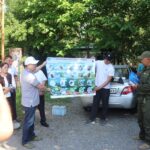 Aarhus Center Specialist A. Matisaev