Round table took place in the At-Bashy district
On May 28, 2021 in the Ak-Muz village of the At-Bashy district at the Boogachi secondary school, a round table was held on the topic "Implementation of the Aarhus Convention." The round table was held with the support of the OSCE Program Office in Bishkek. The round table was attended by ayil okmotu staff, teachers, local residents and 11th grade students. The manager of the Aarhus Center in the city of Naryn Kalmuratov Samat opened a round table with a presentation on the activities of the Aarhus Center and also spoke about the work done to implement the Aarhus Convention for 2020.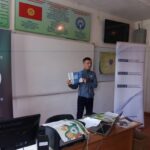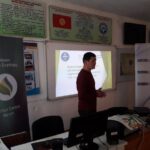 Then the lecturer of Naryn State University, Zhaparov Adilet made a presentation on sorting garbage and composting food waste. After that, senior researcher of the State Natural Park "Salkyn-Tor" Ismailov Umot made a speech. He spoke about the work done by the park staff, as well as about the future plans for the park. After the presentations, we moved on to an open discussion on the further action plans of the Aarhus Center in Naryn for 2021-2022. During the discussion, there were suggestions that such events should be held more often and in a larger format with the participation of more people. Representatives of Ayil okmotu expressed their gratitude and noted the importance and relevance of the issues that were risen. They are ready for close cooperation and joint work in the future.