The participation in the festival of documentary films "Bir Duino Kyrgyzstan-2015"
Within the framework of the show of films for the competition of Festival "Bir Duino Kyrgyzstan-2015" on 13 December 2015 in the conference of American University of Central Asia was conducted the regular day of the documentary films' show.  This Festival devoted to the 40 anniversary of signing Helsinki protocol on the human rights and prinicipals of Aarhus Convention.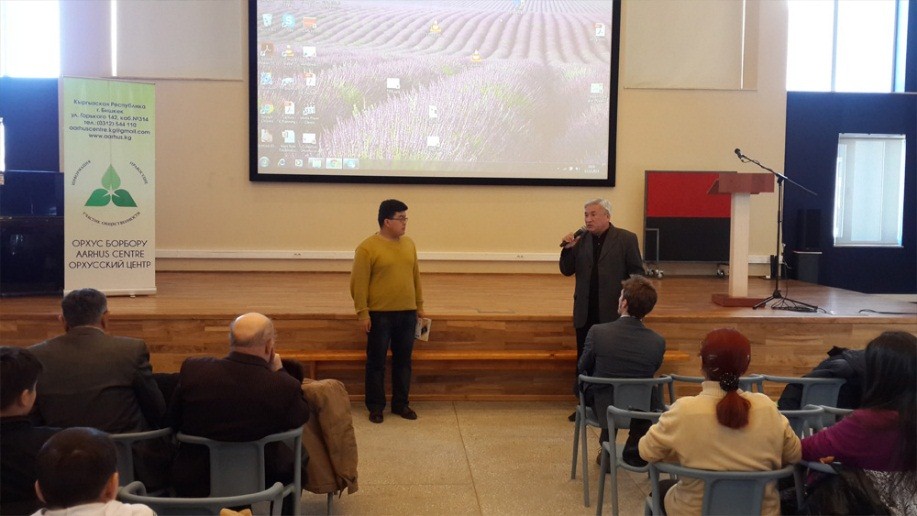 At the beginning of the show the organizers asked the representatives of staff of Center OSCE in Bishkek and Aarhus Center in Bishkek to welcome all and to make a presentation in front of the participants and audience of the competition. On behalf of Centre OSCE the representative was an Assistant of the local office of Osh Eduardo Da Ros, who outlined the Helsinki Protocol on Human Rights, as well as informed about the work of the OSCE Center in Kyrgyzstan. The information about the Aarhus Convention and the Aarhus Centre in Bishkek was presented by its director Adil Nurbekov. After the speeches, the speakers were asked some questions from the audience of the Festival, for which they received full answers.
Further the Festival continued its work and to the audience were presented competition films "The promise of America," by Michelle Stevenson and Joe Brewster (USA), "Lost childhood" by Aisuluu Tekimbaevoy (Kyrgyzstan), "Election" by Jeroen fan Felz (Netherlands), "Chocolate splashes" Willem Baptista (Netherlands), "CRP test" Diedu Hamadi (France and the Democratic Republic of the Congo), "Stolen Childhood" by Kasymbekova Kubat (Kyrgyzstan). After viewing each film the participants of the Festival held discussions and expressed their views and concerns about the films that were shown on the screen.