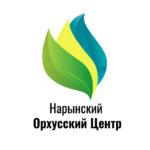 On November 5, 2019, in Naryn city, opening ceremony of Aarhus Centre Naryn was held at the School of Professional and Continuing Education of the University of Central Asia.
Aarhus Centre will be great platform to disseminate information due to the fact that this area is remote and mountainous. The implementation of various programs and projects is great importance for enhancing the socio-economic development of the region. In addtion, poor infrastructure and the absence of large and active public organizations that contribute to full-scale work with the civil society and environmental services.
The opening of the Centre on the basis of one of the best educational institutions makes it possible to carry out various program events together with them, covering the majority of the youth in region, which, unfortunately, has gone to more developed regions of the country in recent years. Thus, the Centre will decide, in addition to the environmental education of the younger generation, the issues of involvement in solving environmental problems. Centre will conduct various training seminars, educational conferences, thematic trainings for all categories of the population of the region.
The center is located at Naryn, 722900, st. S. Zhakypova 19
School of professional and continuing education.
Phone: 0770863418
Email: Samat Kalmuratov samat.kalmuratov@ucentralasia.org