Educational lection for faculty and students of Kyrgyz National Agrarian University on behalf of K.Skryabina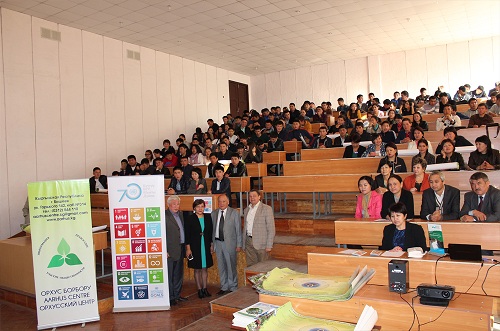 On 7 october 2015 was conducted meting of head of Aarhus Center of city Bishkek A.Nurbekov and coordinator program UNDP in Kyrgyz Republic V. Grebneva with faculty and student of department " Management of natural resourses" of Kyrgyz National Agrarian University on behalf of K.Skryabina. This meeting was organized according to confirmed Strategic Plan of development activity Aarhus Center of Kyrgyz Republic for 2015-2018 and dedicated to 70 years of creating of UN organization. During this meeting were presented educational lection by A. Nurbekov for a topic "Aarhus Convention- tool of protection and preservation of environment" and by V. Grebnev "Protection of environment and realization of goal sustainable development".
The head of Aarhus Center in city Bishkek A.Nurbekov presented information about Aarhus Convenetion, shared the principles and provisions of Convention and by which method this Convention is realized in Kyrgyz Republic; moreover, the Aarhus Center in city Bishkek was presented by sharing working plan and actual activity. The coordinator program of UNDP in Kyrgyz Republic shared with information about goals in the sphere of Sustainable development, protection of Earth life'support, support of innovational changes and providing additional influence in achievement of those goals, about some directions of protection natural resources activity in questions of biodiversity and protection of water, land resources, and climate changes. This presentation was dedicated to 70-years of creation UN organization, which all countries will celebrate in the end of October this year.
During this meeting were raised question about work of Aarhus Center, Aarhus Convention, on realization different projects within UNDP programs and others. At the endof the meeting A.K.Samykbaev, celebrating all participants with upcoming round date of creation UN, expressed interest on behalf of university in further cooperation in conducting such meetings and ecological educational processes.