Environmental monitoring was carried out at Issyk-Kul
On June 24, 2022, as part of the approved work plan for 2022, the Issyk-Kul Aarhus Center monitored the source of thermal waters of the Keremet Suu recreation area located in the village of Chon-Oruktu, Issyk-Kul region. The purpose of monitoring is to study the chemical composition of hot water entering and leaving the pool and determining its impact on the environment.
As an expert, a specialist from the Issyk-Kul Territorial Administration under the Ministry of ecology, natural resources and technical supervision of the Kyrgyz Republic K. Kenenbaev was involved.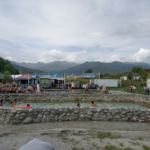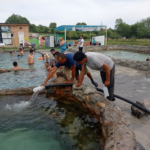 The expert was given the following tasks – to determine the quality of water by conducting the following types of laboratory tests:
– pH level;
– electrical conductivity of water;
– nitrogen-ammonium composition of water;
– nitrogen-nitrite composition of water;
– nitrogen nitrate composition of water;
– the amount of suspended solids.
-biochemical needs of GSV 5,
– SAW.
During the monitoring, water samples were taken at two points entering and exiting the pool. An official notification was sent to the Oruktu ayil okmotu about the monitoring by the Issyk-Kul Aarhus Center. In this regard, the executive secretary of the Oruktu ayil okmotu E.Mukambetov and the director of the recreation area "Keremet Suu" Zh.Ashyrov took part in its implementation.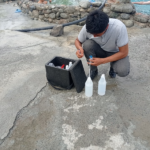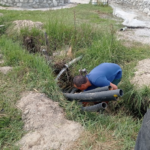 Based on the results of monitoring, conclusions and recommendations will be sent to local governments, the management of the recreation area and the relevant state bodies to take the necessary measures to improve the condition of the wellspring.