Meeting with students at the Kyrgyz State University
On November 10, 2022, the Aarhus Center in Bishkek took part in a meeting with students of the Faculty of Economics and the Faculty of Geography, Ecology and Tourism of the Kyrgyz State National University. The meeting was organized by the leadership of the faculties on the initiative of the Aarhus Center.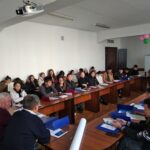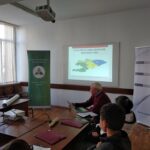 During the meeting, the head of the Aarhus Center Adil Nurbekov informed the participants about the work of the network of Aarhus Centers in Kyrgyzstan, about the events held and plans for the next year. On the part of the students, the curator of the faculty and 2nd year students spoke with brief information about their studies and ongoing projects. Also, the head of the department of KNU made a brief informational speech and presented materials of joint work in the field of attracting young people to solve environmental problems in the whole country.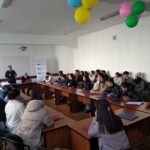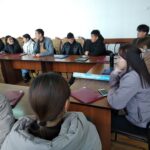 At the end of the meeting, the students asked several questions and spoke about the need to hold such meetings at least 2 times a year to inform about environmental issues and search for joint projects involving students.