Round table in Talas
On October 3, 2017 in Talas, a round table on "Practical participation of public organizations – the key to the successful implementation of the Aarhus Convention" was held. The organizers of the event were the Aarhus Center in Bishkek, the Association of Public Ecological Organizations of Talas region with the support of the OSCE Program Office in Bishkek and  Talas Environmental Protection Agency SAEPF. Participants were representatives of public organizations, Talas University, youth organizations, environmental services and independent environmental experts from the region.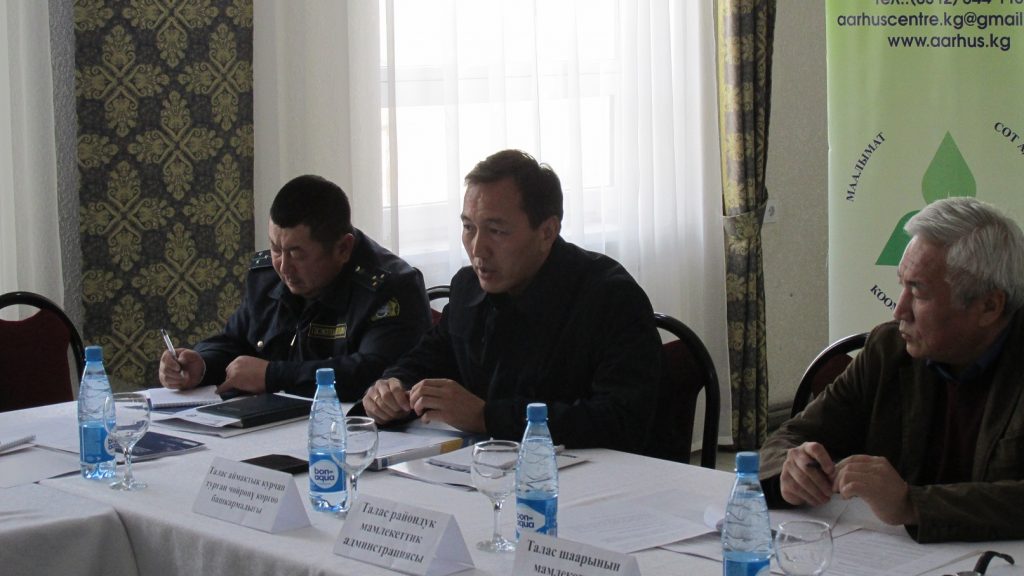 The main task of the roundtable was to receive information from representatives of the Talas region on measures taken to protect the environment, use of the recommendations and provisions of the Aarhus Convention on the protection of their environmental rights, and the work of environmental services in the preservation of the environment. The main speakers were the head of the Talas SAEPF, B. Kadyrbekov, the executive director of the Association "Alliance of the Talas region" T. Momunbekova and the head of the Aarhus Center of Bishkek A. Nurbekov. After the presentation, many questions were asked to B. Kadyrbekov as the main executor of the implementation of environmental policy in Talas region on behalf of SAEPF. The questions were on different ecological problems and touched various problems of the region. Thus, representatives of the university raised the problem of an unsystematic approach to the implementation of planned measures for environmental protection, weak methodological and educational work with the population. Representatives of the youth organization "Aikol" raised the problem of building workshop for the production of plastic bags in the residential area No. 95 in Talas, which are harmful to environment. Issues of mismanagement of forest plantations along the roads, which were planted several years ago, were also raised; increase of heavy vehicles that violate the ecology of the region and affect human health; increasing debris in cities and villages and the lack of places to properly store them and much more. All questions were answered by stakeholders, and a discussion was held on the lack of a cultural attitude to nature.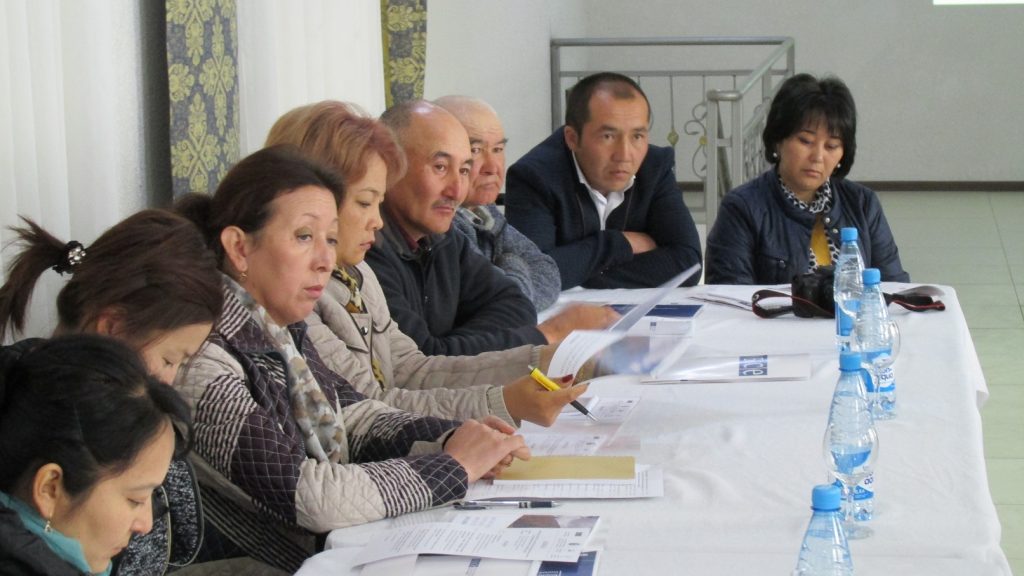 In the second half of the round table, recommendations were given by the staff of the Aarhus Center on the rights of application of the Aarhus Convention. It was suggested, in case of an urgent solution of problem, to contact office of the Aarhus Center in Bishkek and partners in Talas, in particular to the Association "Alliance of the Talas Region". At the end of the round table, all participants were given compilations of normative legal acts in the field of environmental protection 2009-2016, collected and replicated by SAEPF, UNDP, the OSCE Program Office in Bishkek and the Aarhus Center in Bishkek.