Debates on the topic "Mitigation of the consequences of climate change" took place among the teams of higher educational institutions of the city of Osh.
On October 22, 2021, a debate among students was held at the Kyrgyz-Uzbek International University named after B. Sydykov (KUIU) in order to raise awareness among young people about climate change. This event was organized by the Aarhus Center of Osh City within the framework of the project "Promotion of Green Economy and Environmental Management" together with the KUIU and the Youth Committee at the Osh City Hall.
The debate was attended by the National Adviser of the Organization for Security and Co-operation in Europe (OSCE), teachers and students of the Faculties of Biology and Geography of KUIU, Osh State University (OSU), Osh Technological University (OshTU) and Osh State Pedagogical University (OSPU). A total of 35 people participated.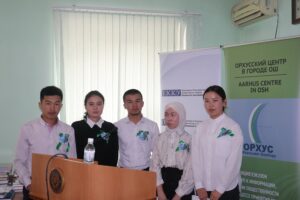 At the opening of the debate, the director of the Aarhus Center K. Isabaev spoke about the activities of the Aarhus Center.
OSCE National Adviser M. Osmonov noted the importance of the activities of the Aarhus Center for Youth together with partners.
Professor, Doctor of Biological Sciences Samieva Zh. familiarized the teams with the rules of the debate and moderated the the process.
Students prepared presentations, audio and video materials on the following topics and exchanged information.
Climate change and its causes;
Climate change mitigation;
Green economy and its principles;
The impact of climate change on the environment and socio-economic development.
At the end of the debate, the jury summed up the results: the 1st place was taken by the OSU team, the 2nd place by the KUIU, the 3rd place by the OshTU and the 4th place by the OSPU team.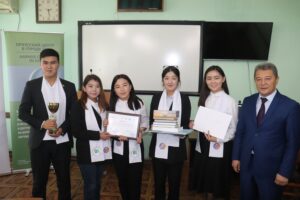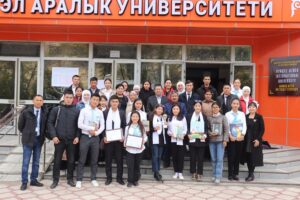 With the participation of the rector of KUIU Ch. Raiymbaev the winners and all participants were awarded the following prizes: the Winner's Cup, a cash prize of 6 000 thousand soms, encyclopedias, scientific and literary books, specially prepared T-shirts of the Aarhus Center, notebooks.
Specialist of the Aarhus Center in Osh  A. Matisaev .