Round table discussion on "Aarhus convention – protection tools and preserve the environment" Kant city, Issyk-ata district
On the 23 June, 2015, in the library of Kant city in Chui region at the Issyk-Ata district was a Roundtable discussion on "Aarhus Convection – Protection Tools and Preserve the environment". Aarhus Centre in Bishkek organized it with the support of the OSCE center in Bishkek in collaboration with the State Agency for Environmental Protection and Forestry under the Government of the Kyrgyz Republic.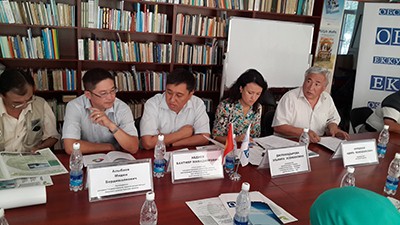 The roundtable was attended by representatives of the regional state administration bodies, the media, NGOs, CBOs, NGO and civil society.
After introductory information on the principles and objectives of the Aarhus Convention, there was discussed the next question of the implementation of the strategic plan for the development of Aarhus Centers in the Kyrgyz Republic for 2015-2018.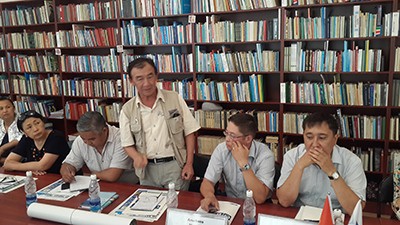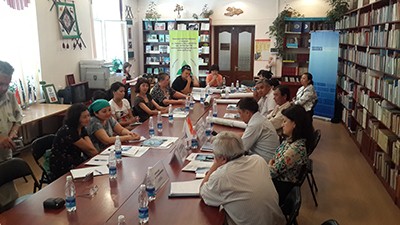 The discussion addressed to the issues of environmental conservation in the Kyrgyz Republic and particular in the Chui region. Particular attention and concern of the participants was aimed to the problems of pollution from industrial enterprises in the region. Industrial waste and spontaneous dumps violate the sanitary-epidemiological situation and environmental safety.
In this regard, the participants expressed their wishes to pay special attention to this issue and pay attention to the relevant services who will track them.
Also, actively was discussed the preservation of glaciers in Kyrgyzstan. Residents of the area are closely watching how the discussions and acceptance of this issue in the Parliament of the Kyrgyz Republic are going.
During the discussion, a question about occupancy rate of Toktogul reservoir was raised. This is a matter of public concern, because it's effect on the electricity supply at the wintertime and electricity price increases.
At the end of the round table were several participants expressed gratitude for hosting this event and wishes of success.