Signed a Co-operation Plan for 2019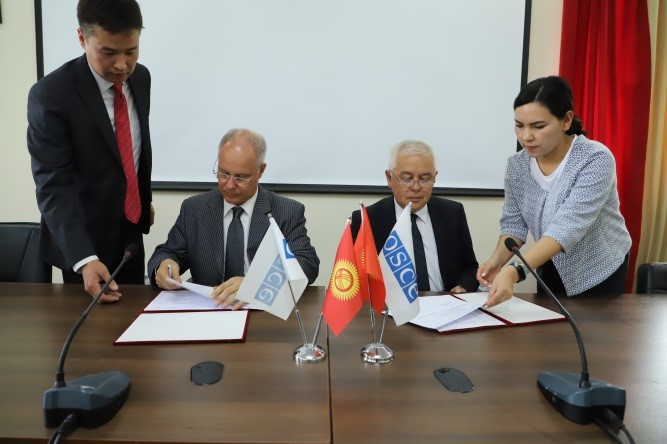 22 May Head of the OSCE Programme Office in Bishkek Amb. Pierre von Arx and the Director of the State Agency for Environmental Protection and Forestry of the Kyrgyz Republic (SAEPF) Abdykalyk Rustamov signed a Co-operation Plan for 2019.
Both parties praised the co-operation between the State Agency and the Programme Office. The Programme Office supported SAEPF's efforts in the development of strategic documents, which help consolidate all state agencies efforts in ecologic monitoring and decision-making process on environmental protection issues in Kyrgyzstan.
Moreover, as part of the Co-operation Plan 2019, the OSCE Programme Office in Bishkek has planned a set of activities to further support the activities of the SAEPF, including:
– provide expert support to writing the National Report on the State of the Environment of the Kyrgyz Republic for 2015-2018;
– provide expert support to the Laboratory of Issyk-Kul Territorial Department of the State Agency on effective use of technical facilities that conduct laboratory ecologic expertise;
– continue supporting the State Agency in public awareness raising campaign on environmental protection issues within the implementation of the Aarhus Convention in Kyrgyzstan, specifically by assisting in the work with the local population and promoting their participation in ecologic decision-making processes.
In line with the OSCE values, the OSCE Programme Office in Bishkek places high importance to environmental issues and will continue co-operating with the Kyrgys Republic Government in fulfilling sustainable development principles in Kyrgyzstan.