The celebration of the 30th anniversary of state environmental organization's formation.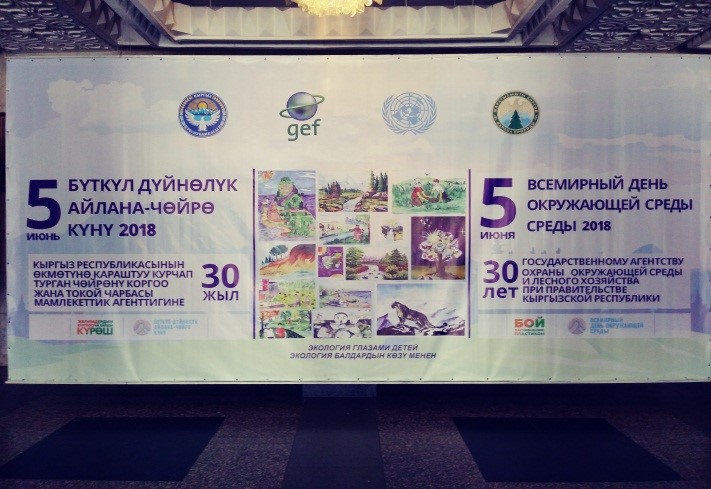 On June 5, at the day of the World Environment Day, a ceremonial event dedicated to the 30th anniversary of the creation of the State Agency for Environmental Protection and Forestry (SAEPF) under the Government of the Kyrgyz Republic was conducted at the Philharmonic in Bishkek. The representatives of the Government Office, ministries and departments, as well as heads of international institutions that implement joint environmental projects in Kyrgyzstan participated in this event.
At the beginning of the solemn event, brief information on the activities of the SAEPF during the years of the establishment of the state environmental body in Kyrgyzstan was presented to the participants.

In his speech, the Director of the SAEPF, A.A. Rustamov, presented the audience the work of the agency, positive examples in the issues of environmental protection, pointed out the progress in improving the ecological state of Kyrgyzstan and expressed his gratitude to all environmentalists for cooperation in preserving nature and creating favorable environmental conditions for Kyrgyz citizens.
On behalf of the Prime Minister of the Kyrgyz Republic, the head of the department of agro-industrial building and ecology A.Zhenaliev delivered solemn greetings, congratulating the staff of SAEPF on the anniversary and presenting the awards of the Government of the Kyrgyz Republic.
In addition, the Deputy Permanent Representative of the United Nations in the Kyrgyz Republic, Aliona Nikulita expressed her solemn greeting.
Further, on behalf of the SAEPF, A. Rustamov presented the diplomas and badges of the distinguished workers of departments to the employees for their active work and positive results in the matters of environmental protection.