Meetings and media tour in the cities of Osh and Mailuu-Suu on uranium tailings in the Kyrgyz Republic.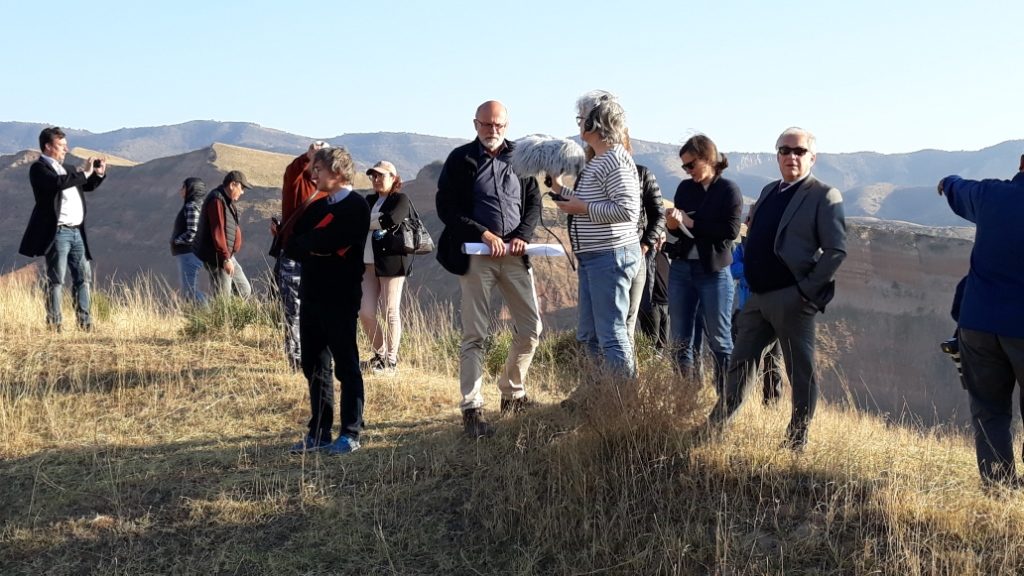 On October 24-25, 2019, meetings and a media tour were held in Osh and Mailuu-Suu, where representatives of the following organizations and the media participated:
Mass media of far and near abroad countries – Radio of Germany, World Nuclear News, Japanese newspaper Asahi Shimbun, Reuters news agency, New newspaper Zuercher and Press, from Kyrgyzstan – ELTR, KTR, ZTR.
Ministry of Emergency Situations, tailings management agencies under the Ministry of
Emergencies of the Kyrgyz Republic
Mayor and civil society representatives of Mailuu-Suu
 European Union
EBRD
Visutec companies
OSCE
UNDP
The purpose of the visit was to get acquainted with the uranium heritage sites (OHS) of Mailuu-Suu in the field, to inspect the status of tailing dumps and dumps, to further familiarize the threat of destruction of the OHS as a result of natural disasters, with the upcoming and completed work under the project.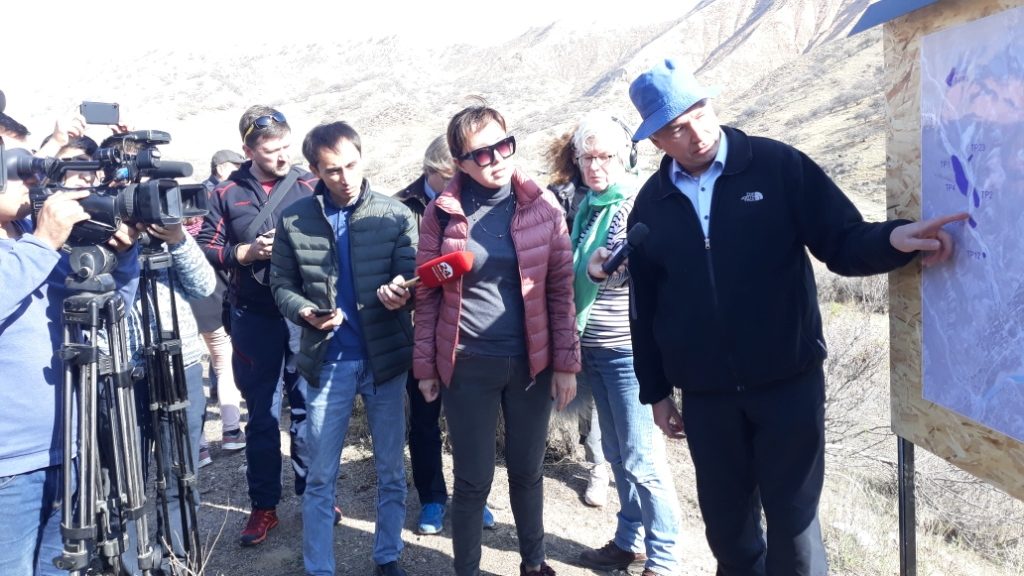 Participants of the media tour began their visit with an introduction to tailing ponds No. 1, 2, 4, and 13, located on the Ailampa-Sai tract. Representatives of the Visutek company and other relevant organizations and agencies informed all those present about the upcoming and completed work under the project. After that, the participants visited tailings No. 5, 6, 7. located in Ayil Өkmөtү Sary-Bee, there was also carried out work to inform participants about upcoming projects, the status of uranium heritage sites and the implementation of previous pilot projects to transfer tailings No. 3 at tailing pond number 6.
Then the participants got acquainted with the state of tailing ponds No. 8, 20, and 21. At the end of their working day, the participants visited tailing pond No. 11, located in the Kulmun-Sai tract, about 3 kilometers from the village.
During the visit, the staff of the Aarhus Center in Osh and the Public Environmental Information Center in Mailuu-Suu carried out measurements of the background radiation at uranium heritage sites using the Ecologist Profi dosimeter. The results of radiation measurements were demonstrated to media representatives and participants of the visit.
Participants in the media tour received full information about uranium heritage sites in Mailuu-suu. Many questions were asked to representatives of Visutek, the Ministry of Emergencies, the Tailings Management Agency under the Ministry of Emergencies of the Kyrgyz Republic, the Mayor of Mailuu-Suu, and received corresponding answers.
Head of the SEIC of the city of Mailuu-Suu
Mamasaliev A.E.
10/28/2019