Naryn Aarhus Center has been awarded with a letter of thanks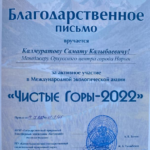 On the eve of the International Day of Nature Reserves and Natural Parks, the Naryn Aarhus Center was awarded a Letter of Thanks from the Katunsky State Biosphere Reserve (Russia), the Katon-Karagai State National Nature Park (Russia), the Karatal-Zhapyryk State Nature Reserve (Kyrgyzstan) for active participation in the international action "Clean Mountains – 2022". This action was carried out by environmental organizations of Russia and Kyrgyzstan and was aimed at preserving nature reserves and parks in our regions.
We congratulate the Naryn Aarhus Center in the person of Samat Karamuratov and express confidence in continuing cooperation with partners.