Round table with mass media representatives of the Osh city
On April 21, 2021, in the conference hall of the Aarhus Center a round table was organized for media representatives to discuss cooperation issues. This event was organized by the Aarhus Center within the framework of the "Promoting Green Economy and Environmental Management" project. The round table was attended by representatives of the Committee on Youth Affairs, MRU SIETS in Osh, "Osh Sadosi", "Osh Zhanyrygy", "Osh Echo", "Rek Park" and STRBC "ElTR", "T-Media", GTRK "Yntymak".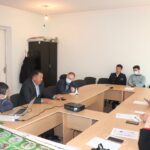 The round table was opened by the speech of director of the Aarhus Center, K. Isabaev, and afterwards he informed the participants about the main elements of the Aarhus Convention, about the activities carried out by the center in 2020 and work plans for 2021.
The following participants spoke at the round table:
Mamyraimov A. – Deputy Head of the Interregional  SIETS Management in Osh (State Ecological and Technical Inspection), Karakozuev A. – News Editor of the State Television and Radio Broadcasting Company "ElTR", member of the Advisory Board at the Aarhus Center, Azhibekov A. – Program Director of ORTRK "Yntymak", Shakirova S. – editor-in-chief of the "Osh Sadosi" newspaper, S. Polischuk, editor-in-chief of the "Osh Echo" newspaper, N. Omurzakova, journalist of the "Osh Zhanyrygy" newspaper, B. Ibraimov, journalist of the "Rek Park" newspaper, I. Berkhmamatov. – Chairman of the Youth Affairs Committee of Osh.
The participants discussed the problems and issues of public access to environmental information. They shared their experience of working with environmental information. They discussed issues of cooperation and joint work in the dissemination of environmental information, in addition, some propositions were made. The participants noted the important role of the mass media in the dissemination of environmental information, the implementation of the Aarhus Convention principles and ensuring environmental safety.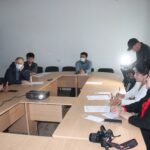 At the end of the round table, the Director of the Aarhus Center expressed his gratitude to the participants and called for cooperation. The journalists visited the library of the Aarhus Center. Participants were given posters about animals, birds and plants listed in the Red Book of the Kyrgyz Republic, published by the OSCE Program Office in Bishkek.
Zayyrbekov .Specialist of the Aarhus Center.
23.04.2021