Debate for students of universities in Osh, dedicated to the "Year of protection of mountain ecosystems and climate resilience in the Kyrgyz Republic and the International Year of Sustainable Mountain Development".
On November 4, 2022, at the Kyrgyz-Uzbek International University named after B. Sydykov (KUMU), debates were held among university students on the topics: Climate change, protection of mountain ecosystems in Kyrgyzstan, environmental safety and environmental protection.
This event was organized by the Aarhus Center of Osh city as part of the Green Economy Promotion and Environmental Management project with the support of the OSCE Program Office in Bishkek.
The debate was attended by representatives of the Osh Regional Department of the Ministry of Natural Resources, Ecology and Technical Supervision (ORU MNRETS) of the Kyrgyz Republic, the Committee on Youth Affairs under the Mayor's Office of Osh, the Aarhus Center, teachers and students of the faculties of biology, geography of the KUMU, Osh State University (Osh State University) , Osh Technological University (OshTU) and Osh State Pedagogical University (OGPU). More than 40 people participated in total.
At the opening of the debate, the director of the Aarhus Center K. Isabaev, professor, doctor of biological sciences of the KUMU Zh. Samieva, chairman of the committee on youth affairs at the mayor's office of Osh Zh. Zhusupbekov, chief inspector of the ORU MPRET KR I. Matanbaev spoke at the opening of the debate.
Professor, doctor of biological sciences of KUMU Zh. Samieva acquainted the teams with the rules of the debate and moderated the process.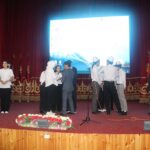 Students made presentations, audio and video materials and exchanged information on the following topics.
Changing of the climate;
Protection of mountain ecosystems in the Kyrgyz Republic;
Environmental Safety;
environmental protection.
At the end of the debate, the jury summed up the results: the 1st place was taken by the Eco-Dem team of OshTU, the 2nd place by the Zhashyldar team of Osh State University, the 3rd place by the Tabiyat team of the OGPU and B. Sydykov Kumu.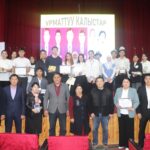 The participants of the debates were awarded a diploma of the Aarhus Center and the Youth Affairs Committee under the mayor's office of Osh, cash prizes in the amount of 5,000 soms and scientific and artistic books, notebooks and specially prepared T-shirts of the Aarhus Center.
At the end of the event, the heads of partner organizations thanked all the participants for their active participation and wished the students success in their studies.
Specialist of the Aarhus Center Zaiyrbekov A.