Press café with mass media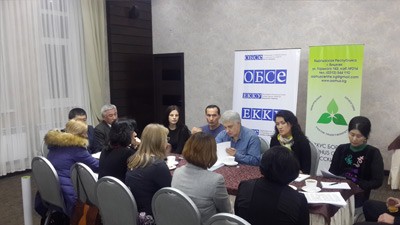 On November 12, 2015 was conducted the meeting of heads of Aarhus Center of Bishkek and Osh, National coordinator of Aarhus Convention N.Baidaikova, the Judge of Supreme Court of the Kyrgyz Republic D.Arstanbaeva with the representatives of mass media. The OSCE Centre in Bishkek was the organizer of this meeting. The coaches of Aarhus Center in Bishkek also took part in this event. To the consideration of mass media was presented the information on the situation in the field of protection of environment, on realization of principles and provisions of Aarhus Convention in KR, on work of judges of Governmental Agency of environment protection and forestry under the Government of KR in promotion legislative initiatives, and on work of Aarhus Centers.
Mass media on their part asked some questions about the problems in field of preservation of environment, violation of ecological rights of citizens of Republic, taking actions and measures on access of population's awareness in the field of ecology, and methods of Aarhus Centers to reach their objectives. During 2 hours were discussed the problems of ecology, availability to ecological information, necessity of public participation in preservation of environment, creation of necessary condition for a qualified approach in protection ecological rights and knowledge improvement on the correct application of legislation of KR taking into account the realization of Convention in the country. At the end of the event all parties have voiced their suggestion of the conducting such meetings to obtain first-hand information in the field of environmental protection and the situation in the field of ecology.